Noortje en Bregje Brouwer krijgen auto vanuit TopsUPport!
Op maandagavond 2 december kregen Noortje en Bregje de Brouwer van het Nationaal Duet synchroonzwemmen een auto uitgereikt vanuit TopsUPport.
Noortje en Bregje trainen 38 uur per week in Hoofddorp ter voorbereiding op kwalificatie voor de Olympisch Spelen in Tokyo 2020. Naast deze enorme trainingsarbeid doen ze nog een studie aan de Johan Cruyff Academy in Amsterdam. Omdat synchroonzwemmen geen focussport is worden Noortje en Bregje alleen ondersteund door de KNZB. Vanwege de vele trainingsuren en hun studie blijft er geen tijd over om te werken. Financieel hebben deze sporters dus een enorme uitdaging. Deze auto hebben we kunnen realiseren dankzij alle leden en donateurs van TopsUPport en in het bijzonder door René Klomp van Hartgerink en Klomp en Dennis Been van het bedrijf BLS.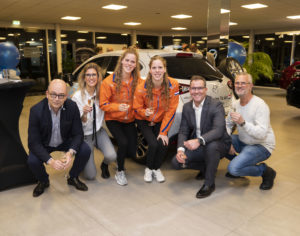 Naast de uitreiking van de auto werd ook de stichting "Dutch Twins To Win"gelanceerd. Deze stichting is opgezet door advocaat Dirk Giltay Veth van FrankfortSluis in samenwerking met Lisanne de Roever. Michael van Praag is aangesloten als voorzitter van deze stichting. Met "Dutch Twins to Win" willen we Noortje en Bregje ondersteunen op financieel gebied en wordt op zoek gegaan naar materiaal en middelen ter beoefening van hun topsportcarrière. Denk aan financiën voor stages, clinics, voedingssupplementen, lenzen, brandstof, ballettrainingen, eiwitshakes, etc. Wilt u meer informatie, of wilt u hen ondersteunen neem dan contact op met Lisanne de Roever.